April 28, 2020
Humans of Ravelry: Meet KatieBea!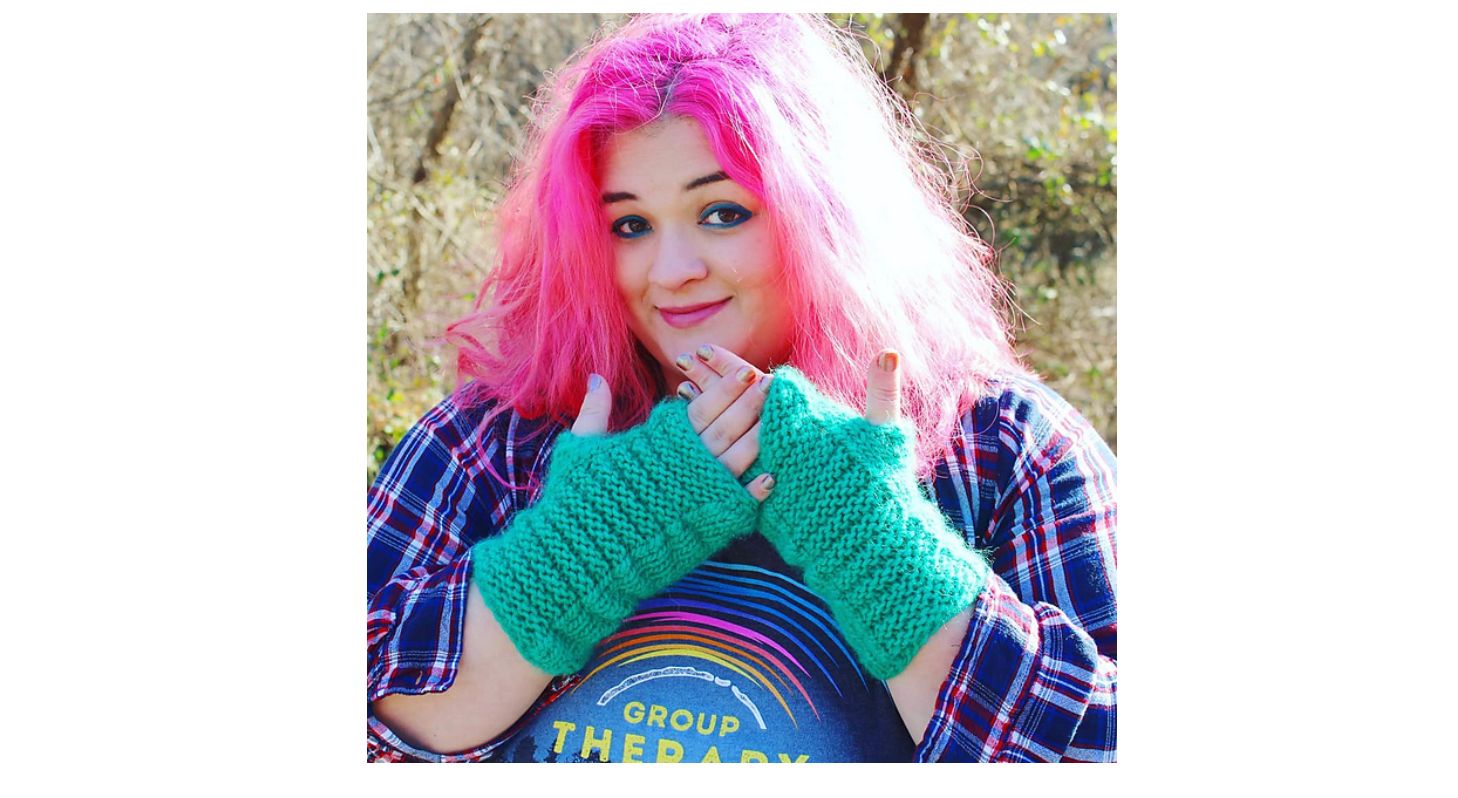 Recently, you may have noticed a new search feature on Ravelry pattern pages: hashtags in pattern page notes are now searchable from advanced pattern search. While this will work with any hashtag, the feature came about after a discussion sparked by Raveler ktb38 (KatieBea), who requested more ways to find patterns that were size inclusive – that is, included measures of 58″- 60″+ inches or 147 – 152.4 cm+ in finished bust size. While we have a lot of ideas for how to revamp size and fit information on pattern pages in a large way, this recent discussion led Cassidy to add the ability to search hashtags for #sizeinclusive or #AnyOtherHashtag so that people looking for patterns in a broad range of sizes (or other patterns grouped by various hashtags) could find them more easily.
We know KatieBea as a longstanding enthusiastic Raveler: she joined in 2007 and has shared over 500 projects (not including almost 50 handspun projects), contributed to dozens of groups, and shared her own designs with the community. Increasingly she has been speaking out in favor of improving size inclusivity in the yarn industry, most notably over the past year here on Ravelry and on her instagram account, where her story highlights contain a wealth of information she has gathered by asking the community questions about size inclusion, test knitting, diversity, and more. She created the Sweaters for All Along, a Ravelry group for knitting size inclusive sweaters last year (and plans to run another Sweater for All Along this year – join her group to keep posted!). We are thrilled that she agreed to be featured as our newest Human of Ravelry!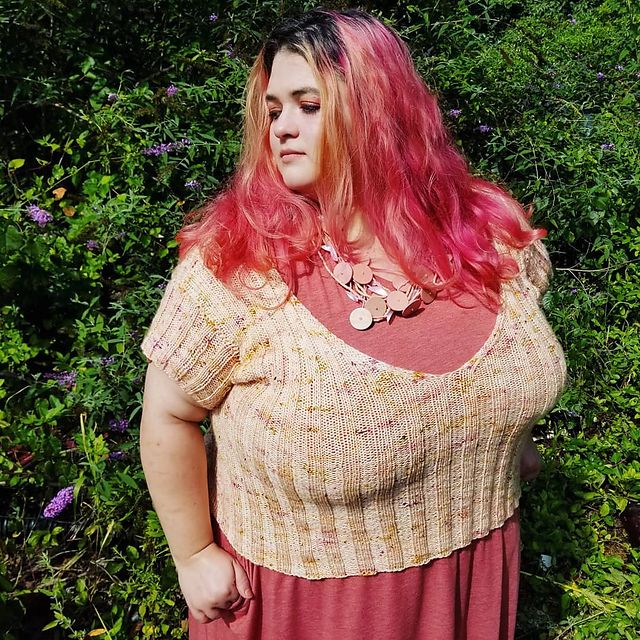 Was there a tipping point that inspired you to speak boldly about size inclusivity in the yarn industry?
If I had to point to one thing, it would be making my first ever sweater for me. For years, I avoided making myself a sweater. I once gathered up enough nerve early in my knitting life and went into a yarn shop looking for yarn for a sweater, only to be told "we don't have enough of yarn for a sweater in your size". It was beyond disheartening, to say the least. So I made shawls, I made sweaters for others, I made everything but a sweater for me. Then Jessie Mae put out a testing call for her new ripple crop top worsted, and she had a yarn scholarship in my size. I debated about it a lot, but said I'd love to do it. After 13 years, I finally made myself a sweater. And it was AWESOME. I looked great in it, I felt amazing. And I thought, why did I wait so long? Why did I deprive myself of not having a sweater for all these years? I can't be the only one who feels like this. I started talking about size inclusion more, asking designers to add more sizes, doing research to help the fiber community, like figuring out why designers aren't getting more testers in the larger sizes, how to fix that , and things like that. I wanted to use my voice to let others, who also had never made their own sweaters, know that they are worthy. Everybody and Every Body is worthy of a handmade sweater.
Your voice has made a positive difference in this area – can you share some of the progress you have seen in the past year?
More sizing in sweaters is the obvious one, of course. Indie dyers offering discounts on larger sweater lots is something I think is fabulous. I've had people tell me that because of the size inclusion discussion, because of what I've done, they feel seen, they feel less alone. They finally feel like they're part of the fiber community.  I know what it's like to feel like you're unworthy, and don't fit in anywhere. It's soul crushing. To be able to change how people see themselves, to help them understand that they are worthy? That's really amazing. I'm really proud of that.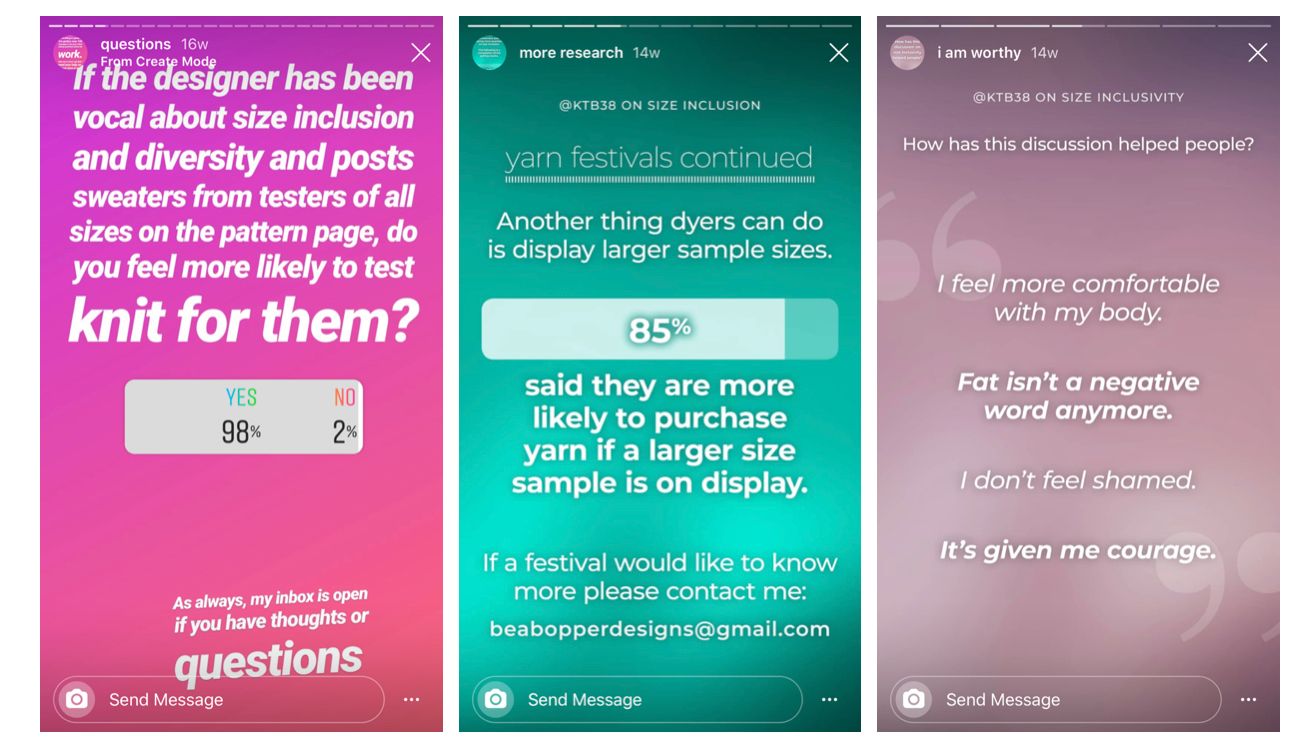 What makes the biggest difference when you encourage designers and publishers to increase the range of sizes they design patterns for?
Explaining that there is a need for more sizes, and most definitely saying they have people in these sizes that want to make their designs and will pay for these patterns. It sounds rather obvious, I know! But it's true. For so long, the sizing was s,m,l, maybe xl. That was the status quo. But 68% of american women are a size 14 (or 16, depending on the study you look at) or larger. That means you have a significant number of people who don't fit into those patterns, which translates to less sales. People are willing to pay for patterns, it's just getting the message across that the status is not quo anymore, and by not grading patterns larger, you're missing out on customers.
What are your hopes for the near future of the fiber community and yarn industry, when it comes to inclusivity and equity?
I'd love to see larger publications work on size inclusivity. A huge part of these changes we've seen are from the indie designers, they've been listening to the community, and have been working to make their patterns inclusive. I'd also love to see festivals and yarn events become more accessible, in several ways. Like I said, my mom has mobility issues, which means she can't attend festivals. Things like having booths set up so people in wheelchairs and using canes and walkers can get in them would be a really great thing that so many people would benefit from. More seating, better parking for people with disability parking passes, better accessible bathrooms, things like that. I'd also love to see areas for breastfeeding, with access to electrical outlets for pumping. And a quiet area, for people with sensory issues, or severe anxiety who need a quiet space to breath and relax for a bit. A Quiet shopping hour before or after the event would be fantastic for those who can't do crowds. Another thing I'd love to see is larger sizes in t-shirts, sweatshirts, for festivals and events. I was thrilled to see that Maryland Sheep and Wool had shirts up to a 4x.
Let's get to know ktb38 with our Humans of Ravelry questions!
---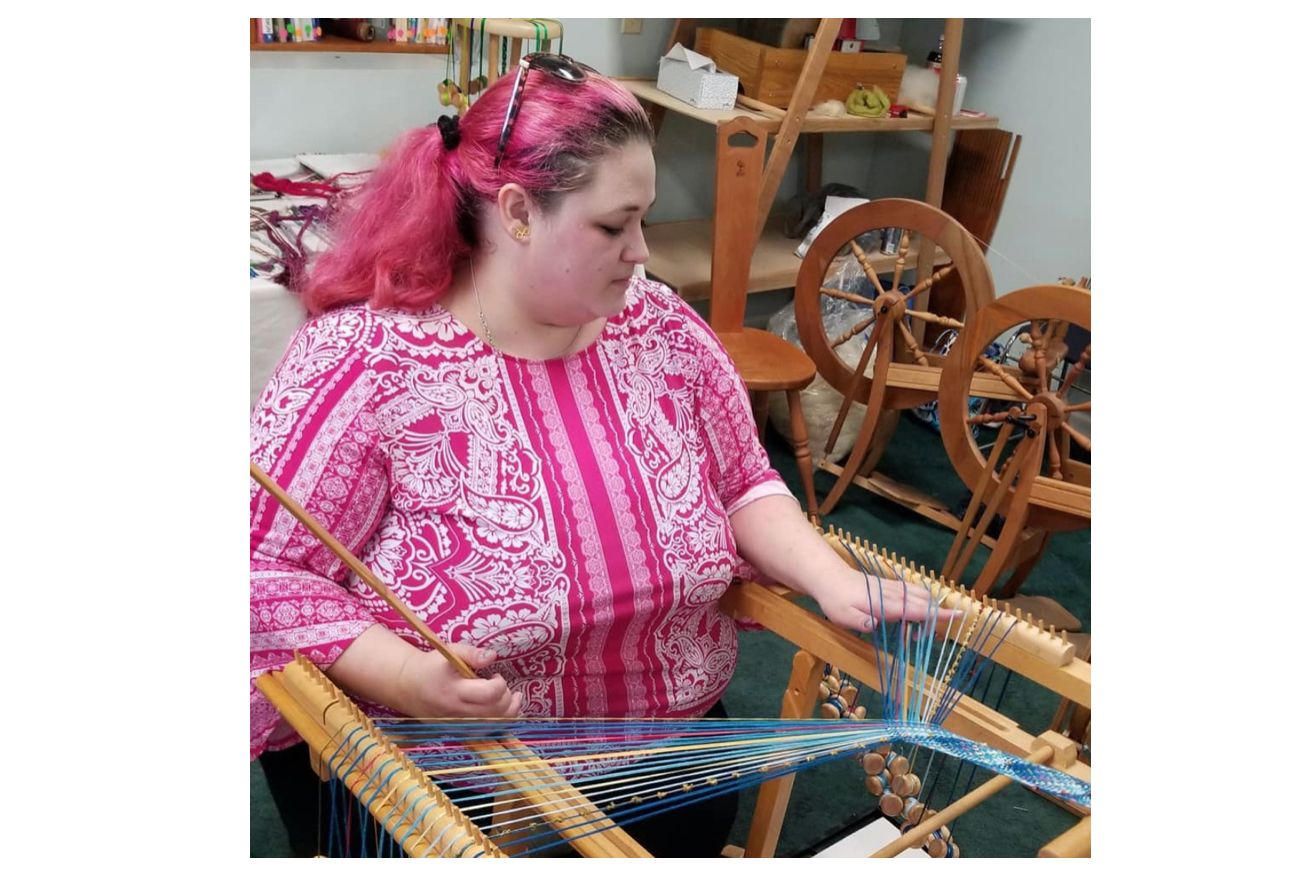 What is your fiber origin story: how/when/why did you start/learn to knit, crochet, spin, weave, and make things with yarn in general?
I adopted my dog, Asta, (She's named after the dog in The Thin Man) and wanted to make her a sweater. That was 14 years ago this month. My mom taught me to crochet a few weeks after I adopted her. The first thing I made was this misshapen crocheted, red and pink scarf. I love it, and wore it, and pretty soon, I was crocheting all the time. I made a blanket that's probably 10 feet by 8 feet? It's ridiculous, and I still have it!  I made Asta a few sweaters, and then decided I wanted to learn to knit. Mom taught me to knit, and I took to it like a duck to water. I made so many garter stitch scarves. So many! I gave them to everyone. Then I slowly started learning other things, like the purl stitch (which I'm still not fond of), and cables, fair isle, and my favorite technique, entrelac. About 2 years later, I decided I wanted to learn to spin! My parents got me my first wheel, a Kromski Sonata, and I still love it. I love spinning, I'm not the best at it, but it's incredibly fun and soothing to spin. A few years ago, I decided to finally learn how to weave, and my mom found a loom on craigslist, and my dad and I drove a few states away to pick it up. It's a 4 harness JL Hammet loom, named Minerva, after the Goddess of weaving. I'm still learning to weave, and recently joined a local guild, Lancaster Spinners and Weavers Guild, to learn more about weaving. I made Asta so many sweaters over the years, this is my favorite. Because she had a funny little body, I had to design all of them, and that was my start of designing. She passed away last year, and it's all because of her that I knit and play with fiber.
I grew up with my mom spinning, and weaving, and crafting. She would compete in sheep to shawls, and demonstrate at places, all that jazz. Her first (and only) sweater was a handspun sweater she made for my dad. He still wears it, 40 years later.  When I was little, I used to see how fast I could make her Ashford traditional wheel spin, using my hands on the pedals. So there was always fiber and crafting in my life, since I was born. My mom has RA and mobility issues, which severely limits her ability to spin and weave anymore, but she's always willing to help me and teach me, which I am so thankful for.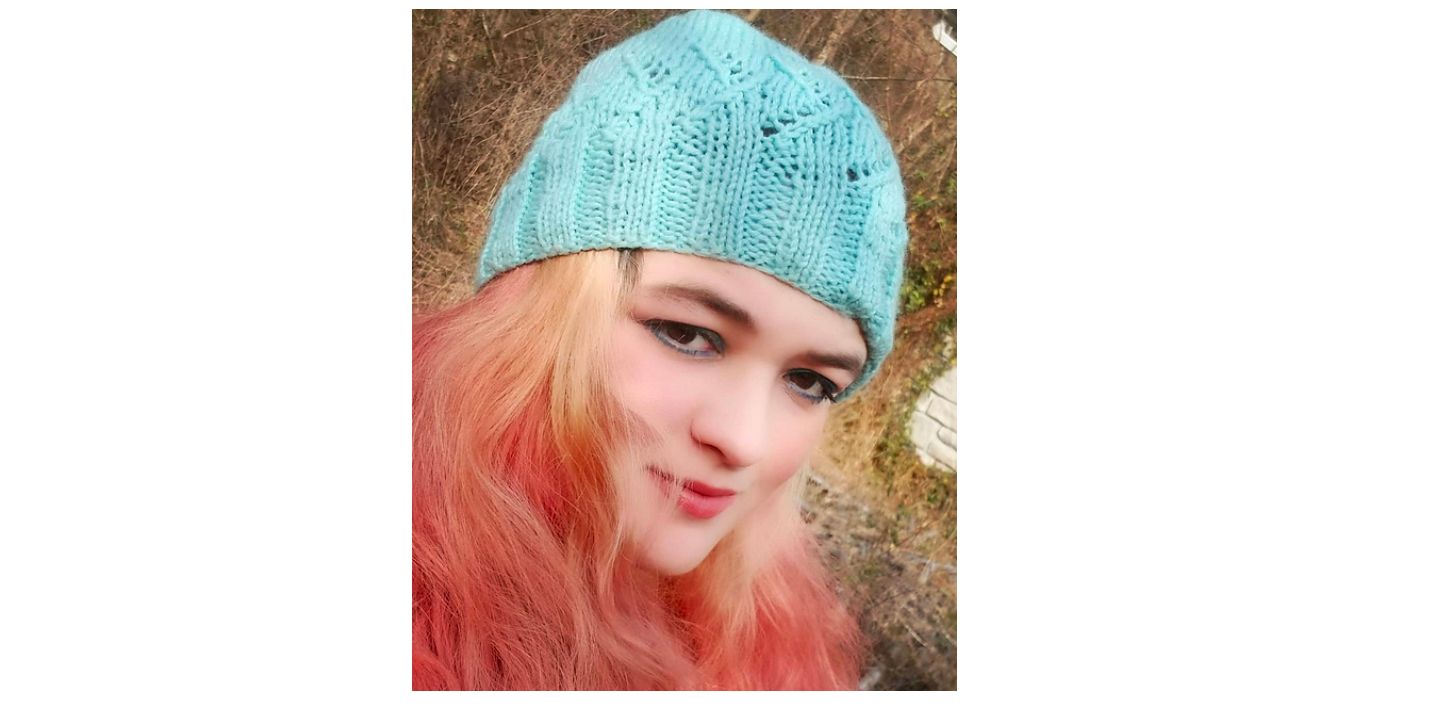 What non-yarn hobby or hobbies do you enjoy?
I love reading, I often listen to audio books while crafting. I'll read most anything, my favorite genres are sci-fi, zombie anything, mysteries, non-fiction, classics, history. I love Jane Austen, and The Brontes, The Dresden files, anything by neil gaiman, mira grant, Outlander, as long as it's a good story, I'll read it. Cross stitching is something I have fun doing. I have a cross stitch piece in my craft studio my great grandmother made, next to some of mine. I love knowing that my love of crafting spans generations.
Thrift store shopping, I enjoy finding things and sprucing them up, giving them a new life.  I recently discovered spray painting glass, and it's amazing! You can make simple glass look like sea glass or jadeite. Baking and cooking. I love trying new recipes, and creating my own. I have some weird allergies, so I make most of what I eat from scratch. Gardening! Growing plants, killing plants, buying more plants in hopes my cat won't chew them to death. This year I'm working on growing lots of flowers for pollinators, because I'm getting bees soon. It's been a dream of mine to have bees since I was 8 years old. I love canning and preserving what I grow, too. I'm working on becoming better at quilting and sewing. One of my goals this year is to make my own clothes, and I'm so happy to see more sewing patterns becoming size inclusive. I have the Torrens Box Top from Muna and Broad that I'm going to attempt to make soon. This year I hope to learn basket weaving, punch needle, and quilling. Because you can never have too many hobbies, right? Is collecting mugs a hobby? Because uh that too.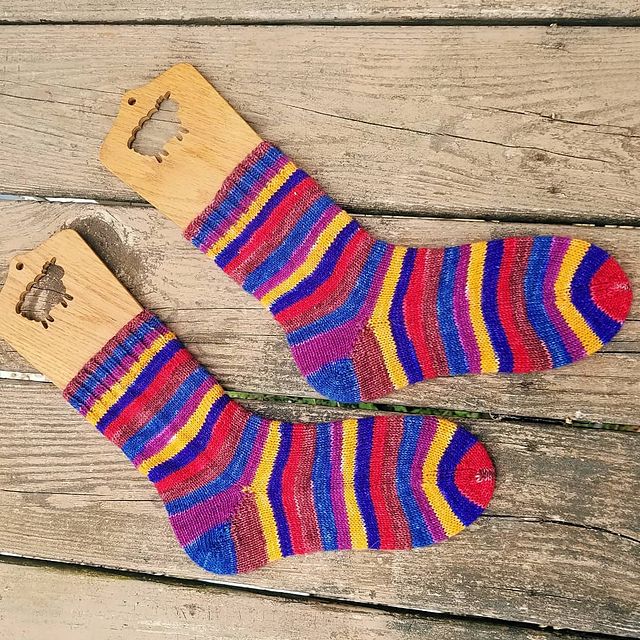 What's one way that crafting has changed your life for the better?
I've met my best friends because of crafting. Because of Ravelry and an incredible friendship, I'm a Godmother. It's also really helped my anxiety. Knitting and spinning, especially, it's super calming and relaxing. If I'm having a lot of anxiety, I'll just watch something (most likely a murder documentary, because I'm weird and love true crime), and grab some mindless knitting to calm my thoughts.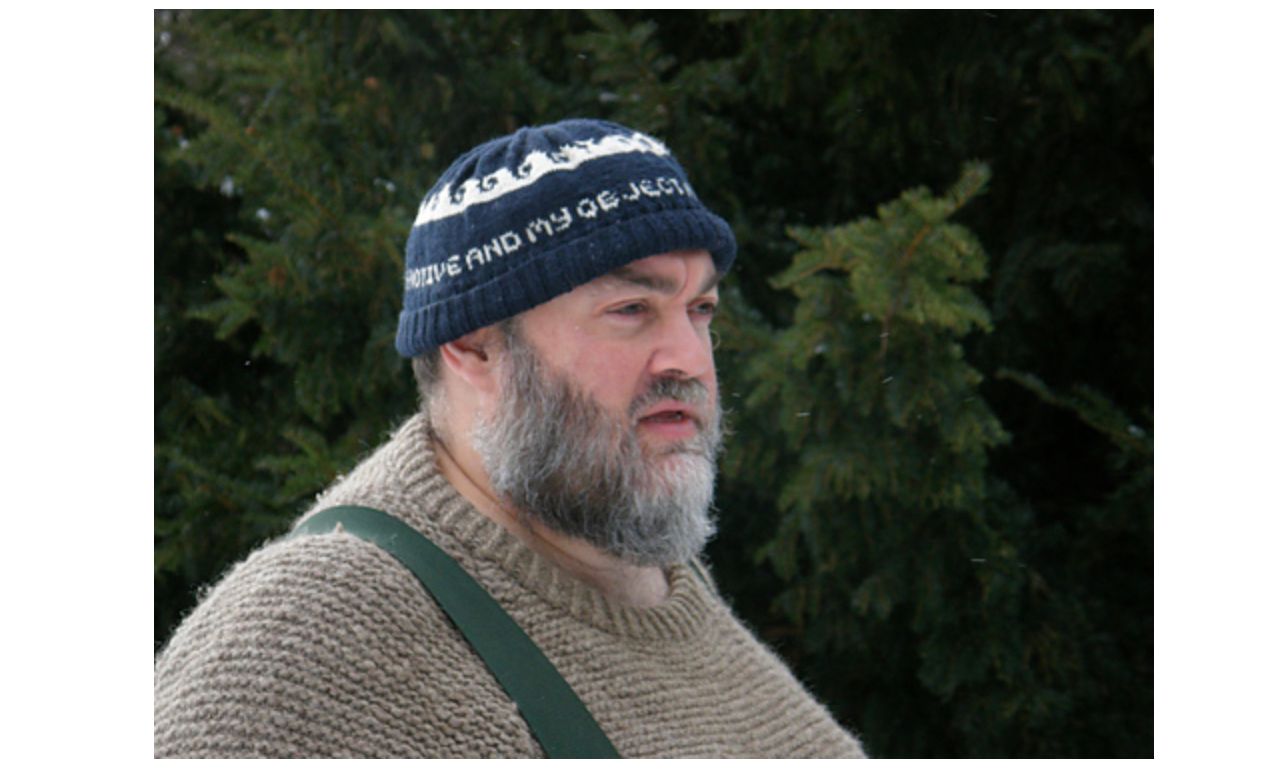 Are you a product or a process crafter?
Process. I love crafting, I love making things. I have a bucket of finished knits that I need to weave in the ends, and block. But I don't because that would cut into my knitting time. And I hate weaving in ends. I really hate it. It's 2020, why don't we have an app to weave in our ends?
What sustains your enthusiasm for crafting?
Being able to make something with my hands is incredibly fulfilling, especially today when everything is so fast paced and hectic. I love the slow fashion and slow stitching movement, just taking some time to create something stitch by stitch, it makes me happy. Also, pretty yarns and fibers. Dyers keep dyeing amazing things and I need them all.
---
Thank you so much for your participation as a Human of Ravelry, KatieBea – we are not only grateful for your positive presence in our community for well over a decade, but also your voice and activism in our broader yarn community!
If you'd like to keep up with KatieBea's work, you can add her to your Ravelry friends—that way you'll see updates in our main friends page. You can also add her designer page to your Ravelry favorites to see any new pattern releases in the Highlights area of the main Patterns page. You can also join her Sweaters for All Along group if you'd like to participate in their next -along!
---
Designers, if you have garment patterns in sizes ranging from 32″ / 80 cm or less on the smaller end to 58″ / 147 cm or more on the larger end, we invite you to add the #sizeinclusive hashtag to those pattern pages so that Ravelers can more easily find them in pattern search!